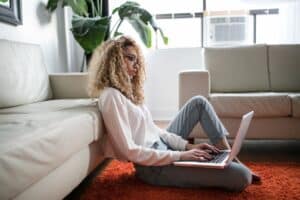 Working from home became an unavoidable reality during the pandemic. Many businesses have cautiously resumed in-person operations, but numerous continue to offer the option to work from home for part of the workweek. Some companies are 100% remote by choice, either due to a distributed workforce or the nature of their services.
Whatever the reason may be, managing a remote staff has unique challenges. The following are several strategies company leadership can use to manage employees outside of a traditional office setting successfully:
Equip employees with the tools they need. Most employees only need a laptop with a reliable internet connection to work from home. However, many employees overestimate the speed of their home Wi-Fi. While it may be sufficient for one individual on a video conference, it may struggle if other people in the house are using streaming services. Employees may not be able to upgrade their internet speed, but many virtual meeting platforms include an option to toggle off video. Only using the voice function puts less strain on the connection.
Check-in often. It's easy for projects to go astray or fall off the radar altogether when teams can't work in the same space. Scheduling frequent check-ins allows managers to keep projects on track and ensure employees' work aligns with the company's priorities. Managers can make these meetings more enjoyable by including a coffee break or using the time as an opportunity to brainstorm and share ideas.
Prioritize clarity. Regular check-ins can rapidly become burdensome if managers spend the entire time addressing discrepancies or misunderstandings. It also frustrates employees, as they feel like they've wasted their time or need to work overtime to fix a project. Regular communication through a team chat, phone calls, and virtual meetings can eliminate confusion and discontent among the staff.
Build camaraderie. Working from home can be lonely, and employees may miss breakroom small talk. Employees need to feel like they're part of a team and understand why their work matters. Companies can establish weekly virtual coffee breaks, lunches, or workout sessions to inject some much-needed fun into the workday.
Remote employees can quickly spiral into disengagement and burnout without competent and considerate management. Attendance problems are also more likely without the proper support. It's easy to start late, log off early, or take long lunches without regular supervision. Contact Actec to learn how our absence tracking mobile app can help you manage your remote workforce.