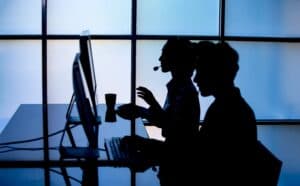 Call center metrics can reveal the overall health of a call center and determine its likelihood of success. Analyzing metrics and implementing data-based changes allows a call center to continually improve its processes and the service it provides to customers. The following metrics characterize top-performing call centers:
Average handle time (AHT). AHT encompasses the total time of a customer phone call and often plays a critical role in customer satisfaction. Shorter calls tend to indicate better service, as the agent is rapidly resolving customer problems. In contrast, ineffective call centers often have a high AHT due to lack of training, knowledge, or efficiency.
First call resolution (FCR). Call centers that answer customer questions or find solutions to customer problems on the first call typically have a high FCR. FCR is essential for customer satisfaction, as frequent transfers or escalations frustrate customers and erode their loyalty.
Average speed of answer (ASA). ASA measures how long it takes for a customer to reach an agent after connecting with the call center. Much like AHT and FCR, ASA directly affects customer satisfaction. If a customer has to navigate a convoluted phone tree or has to wait a long time to speak with a person, they'll likely be agitated by the time they reach an agent.
Average resolution time (AST). Similar to AHT, this metric focuses on how long it takes agents to resolve customers' inquiries. Customers expect agents to be knowledgeable enough to answer their questions or find a solution without delay. If the agent has to place them on hold several times or for long durations, the customer loses faith in the agent's ability to help them. If they have to wait for too long, they may abandon the call altogether.
Customer effort score (CES). CES measures how much effort it took to contact the company and the ease or difficulty of reaching a customer service agent. Customers don't want to hunt for contact information, and they don't want to jump through several hoops to reach a customer service representative. CES also measures how much effort it took for the customer to receive an answer or solution to their problem.
All these metrics influence customer satisfaction and are pivotal to securing customer loyalty. Organizations that analyze their call center data can harness that information to improve processes, service capabilities, and the customer experience. Contact Actec to learn how a nearshore call center can elevate your company's customer service.