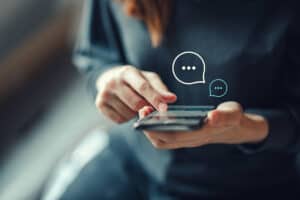 Businesses are struggling more than ever to foster customer loyalty. Today's customers are more likely to look for new vendors or providers following a poor experience with the company. Customers have a low threshold for frustration, and service issues such as long hold times, agents lacking knowledgeability, or unresolved problems are more than enough to erode their faith in the organization.
While numerous factors contribute to the customer experience, two play the most prominent roles: personalization and convenience. Customers expect a personalized experience. Personalization has become essential for businesses to thrive, as 86% of customers report that personalization influences their buying habits and 25% indicate that personalization plays a critical role in driving their purchases.
Convenience is just as crucial. Customers no longer limit their comparisons to industry competitors. Businesses must now compete against tech and ecommerce giants like Apple and Amazon. These organizations set a standard of service delivery that customers expect from all the companies they do business with.
Text message communication combines personalization with convenience. Text message communication channels can improve the customer experience in several ways:
Builds trust with helpful engagement. Customers have little patience when waiting for an update on their inquiry or claim. Many businesses email their customers with regular updates, but this assumes the customer has internet access to check their inbox regularly. SMS text messaging provides updates in real-time, isn't reliant on Wi-Fi, and removes the inconvenient necessity of constantly opening their email.
Quickly resolves inquiries and problems. Customers expect rapid answers and solutions when they reach out to customer service. Texting is a convenient way to seek updates or request information, as customers can engage with their provider whenever and wherever they are. Texting also doesn't tether the customer to their phone or computer while they wait on hold or in a queue.
Improves service efficiency. Customers loathe repeating their information or inquiry. It makes the customer feel like the company doesn't care about their problem or that they are just one file number among many. Text messages retain previous conversations so any agent can help resolve the problem, regardless of their familiarity with the situation.
Builds an emotional connection. Text message communication is often more casual and informal than email or phone calls. Agents can establish a rapport during these conversations while providing rapid customer service.
Customers have a growing preference for text message communication. Businesses that meet their customers on their preferred communication channels have an excellent opportunity to foster customer loyalty and deliver superior service. Contact the experts at Actec to learn more about implementing text messaging services.