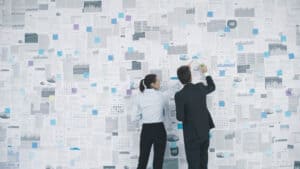 Customers have an overwhelming number of options to choose from when considering insurance providers. Well-established organizations, innovative newcomers, and digital insurers round out an oversaturated market. Many of these insurance companies carry similar products, and insurers can no longer rely on their services as a differentiating factor. Instead, insurance companies need to provide a seamless customer journey to capitalize on the 73% of customers that favor businesses with personalized shopping experiences.
Here are four steps insurers can take to personalize the customer experience:
Gather data through surveys. Customer surveys provide a comprehensive overview of customer preferences. Asking customers about their preferences can provide actionable insights to create an effortless experience without resorting to clunky trial and error.
Identify customer segments. As the name suggests, personalization is not one-size-fits-all. Surveys can help insurers identify customer preference groups and adjust their experience accordingly. For example, customers purchasing homeowners' insurance in flood-prone areas may not realize they also need flood insurance. Insurers can use this opportunity to make relevant and targeted product recommendations.
Cross-train teams. Teams that operate within work bubbles miss critical personalization opportunities. For instance, a customer experience team has the knowledge and expertise to facilitate an effortless customer experience. However, while they can funnel customers to the right products, they may not understand why the customers abandon their carts. A customer service team can offer insight into customer hesitations. By working together, these teams can craft personalized communications that entice customers to return to their carts.
Reach customers on their preferred platform. Part of personalization is knowing where customers prefer to engage. It's useless to send a survey request by email to a customer that doesn't often check their inbox. Offering omnichannel communication gives customers the option to communicate by phone, text, chat, email, social media, and more.
Insurers can't afford to neglect the customer experience, as many customers consider leaving their insurance provider after a single negative interaction. Contact the experts at Actec to learn more about improving the customer experience with text and chat services.