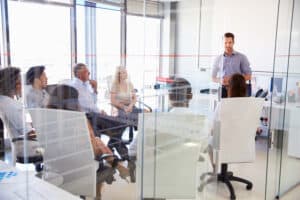 The pandemic forced many companies to shift to an all-remote staff, but many are returning to the office as the omicron surge wanes. Flexibility and the option to telework are here to stay, and employees are likely to divide their time between the office and at home. However, employees have grown used to their home offices. The layout is to their liking, snacks are readily available, and their productivity is impressive. If their workspace at the office falls short by comparison, they aren't going to want to be there. It's also likely to tank their engagement and hinder their work output.
Office spaces should energize and motivate employees rather than leaving them underwhelmed and apathetic. Here are several ideas to cultivate workspaces that employees will love.
Create Collaborative Spaces
Teams need spaces to engage, bounce around ideas, and form a cohesive plan. Depending on the company culture and space availability, employees may prefer to gather on comfortable couches in break rooms, meet at a round table, or book a formal closed-door meeting. Stocking these rooms with tools that inspire creative collaboration (e.g., whiteboards and dry erase markers) can maximize their effectiveness.
Define Quiet Productivity Areas
Many employees struggled with distractions from pets, kids, family members, or other people living in the house while telecommuting. The workplace should seek to eliminate these noisy interruptions for times when employees need to focus. Meeting rooms away from the main office thoroughfare work well for this purpose, or companies can designate a productivity space that discourages phone calls, loud conversations, music, etc.
Design Workspaces with Employee Wellbeing in Mind
Enhanced cleaning protocols became the norm as the pandemic progressed, but companies can do much more to make the workplace a relaxing and supportive environment. Dark workspaces can leave employees feeling lethargic and unproductive. Increasing natural lighting in workspaces does wonders for employees' happiness and engagement. Companies can achieve this with easy and cost-effective changes, such as moving workspaces to well-lit areas, adding mirrors to reflect the light, or using bright lights that mimic natural sunlight if it isn't possible to rearrange the office layout. Eliminating clutter can also improve employees' moods, as visual clutter often overwhelms employees and increases their stress.
The change to exclusively telecommuting happened quickly, and employees had little time to adjust. Businesses have much more control over the return-to-office process. Creating a workspace that employees want to use doesn't have to be grand or cost prohibitive. Simple changes to layout and lighting can improve employees' mood, productivity, and desire to go to the office.
The office setting needs to support employees' creativity, productivity, and mental wellbeing. If their home offices are better equipped, companies may struggle to transition their workforce back into the workplace. Contact the experts at Actec to learn more about what influences employee attendance and how you can improve it.