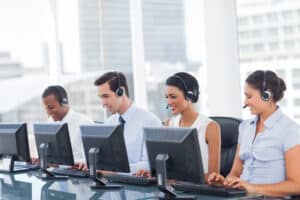 How a company communicates internally has far-reaching effects and contributes directly to its long-term success. It plays a critical role in how well a call center performs. The following are several ways effective communication improves a call center's performance, the quality of customer service employees provide, and the company's bottom line:
Better productivity. Call center employees won't perform well if they don't understand their role or what their employer expects of them. Confusion often leads to frustration, which restricts productivity. Employees perform with much greater efficiency when they have clear guidelines and understand their responsibilities.
Improves engagement. Managers communicate with call center employees regularly to ensure they understand the company's goals and service expectations. However, companies need to ensure that line of communication goes both ways. Employees can't engage as well with their work if they can't seek input from management for clarification or feedback. Having open dialogue also shows employees that their managers appreciate their input and care about their workplace concerns.
Better quality of service. Good internal communication often translates to improved external communication with customers. Effective communication helps call center employees feel confident in their role, which enhances the quality of service they can provide. Customers appreciate direct and transparent communication, and providing that improves their loyalty.
Solves internal issues. Workplace tensions will simmer and explode without effective communication. Teams can resolve internal issues by employing active listening and formulating respectful and professional responses. These effective communication strategies can transform destructive arguments into constructive conversations.
Effective communication is a critical element of any successful call center. Communication strategies affect internal and external workplace relationships. Actec understands the importance of having an effective call center that delivers consistently high-quality service. Contact us to learn more about our nearshore contact center services.