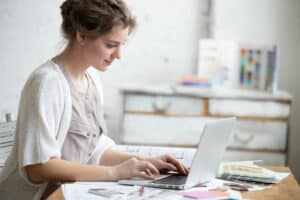 COVID-19 has forever altered the concept of business as usual. Many businesses transitioned to a remote workforce at the onset of the pandemic. Now, some are reopening their offices, but employees expect to have continued flexibility. The pandemic isn't over, and employees may still need flexible hours or the option to work remotely should COVID affect their household.
Employees' mental health has also become a top priority for companies. Businesses are implementing several changes to reflect this trend, such as:
Offering mental health days
Adding mental health services to insurance plans
Encouraging employees to stay home when they feel unwell
Increasing PTO
Employee burnout is at an all-time high, and ignoring their mental health or work-life balance needs can lead to disengagement and rampant absenteeism. Consider implementing the following trends to sustain attendance and productivity:
Remove the stigma of using PTO. Many employees feel like they can't use their PTO without repercussions unless they give ample notice, such as taking time off for vacations. However, employees can't predict mental health challenges or burnout. Fostering a culture that encourages employees to use PTO when they need it can help employees rest when they need to and return to work refreshed.
Focus on employee retention. Many companies expend considerable energy on continually improving the customer experience, and employees deserve that same courtesy. Companies that consistently recognize their employees' value and efforts experience greater employee loyalty and less absenteeism.
Trust employees. Employees resent micromanagement, particularly while dealing with the stressors introduced by the pandemic. Provide clear productivity expectations and deadlines, but trust employees to manage their schedules. Companies can ensure projects stay on track by monitoring employees' work output rather than scrutinizing or dissecting their work hours.
Invest in absence management software. Absence management software helps businesses identify attendance trends and unusual absences. Employers can use this information to implement data-driven changes to improve attendance and employee engagement.
Actec understands the attendance challenges businesses are facing as the pandemic continues to affect business operations. Our self-service absence-tracking mobile app captures all attendance data without the need to contact multiple departments or managers. Employees can also use the app to submit leave requests, either by phone, text, chat, or within the app itself. Contact us to discuss your absence reporting and tracking needs.