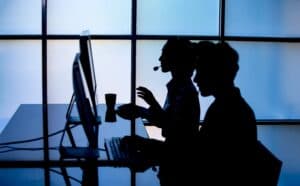 Companies want to deliver a memorable experience anytime their customers engage with them. However, call center errors can create a lasting negative impression instead of engendering loyalty. The customer experience is a significant differentiator, and businesses can't afford to lose clients due to an unsatisfactory call center interaction. Among Gen Z clients, research indicates that 54% stop doing business with a company after a bad experience.
The following are several reasons a call center may leave customers unsatisfied:
Long holds. When a call center agent asks a customer if they can place them on hold, the customer's expectations immediately decline. The request means the call will likely last longer than the customer anticipated. Consider keeping the customer on the line while resolving their issue for simple requests and concerns.
Longer wait queues. Customers also hate waiting to wait. Hearing their spot in line repeat at various intervals can be infuriating, and they'll already be on edge by the time an agent connects to their call. An additional request to put them on hold can permanently damage their loyalty, no matter how knowledgeable the agent is. Providing a call-back service that holds their place in line can ease the irritation, as the customer isn't tethered to their phone. If long queues and wait times are frequent issues, it may be time to hire more call center employees.
Directing the customer to the company website while on hold. Today's customers are more empowered than ever. Most research the problem before contacting customer service. Prerecorded wait messages directing the customer to the company website for faster service rarely produce a positive customer response. They've likely already tried the website, or they may have a unique issue not covered in the help documentation. The directive comes across as pushy and increases the customer's frustration the more often they hear while waiting on hold.
Wasted time on redundant questions. The last thing a customer wants to do after waiting on hold is to repeat the information they already provided. If they had to enter their customer ID, birthdate, or account number before connecting with an agent, don't make them provide that information again. It exposes inefficiencies, and customers perceive it as the agent wasting their time. Consider upgrading call center software so customer data moves with them if the agent needs to transfer the call.
Actec understands that businesses need call centers that drive customer loyalty. Having a competent call center is even more important during the claims cycle. Customers have little patience, and their stress is at an all-time high when reporting a loss or filing a claim. Our nearshore contact center teams handle claim intake efficiently and deliver a superior customer experience. Contact us to learn how a nearshore contact center can transform the customer experience.