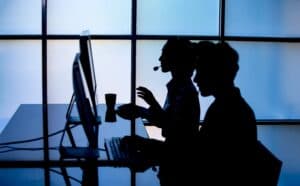 Call centers often experience high employee turnover, and insufficient onboarding processes are a driving factor. Companies that optimize the process can save time and money while improving employee retention. The following are several insights to improve the onboarding process for new call center employees:
Pay attention to personality traits and soft skills. Onboarding is useless if a new hire doesn't have the demeanor required to do the job. Soft skills like empathy, active listening, and coolness under pressure significantly effect customer satisfaction. Unhappy agents that aren't suited to the job can ultimately damage the customer experience and the company's reputation. Employers can train new agents on technical skills. However, changing their personality is difficult, bordering on impossible.
Gamification is a strong motivator. Videogames figured out that players responded enthusiastically to unlocking achievements. Gamification in the workplace, such as friendly competition or striving to reach a milestone, can hold the same appeal. It imbues a sense of fun and excitement that ultimately improves productivity and performance.
Simplify knowledge acquisition. Knowledge bases are a must-have for agents of all experience levels. While tenured agents may know how to navigate a convoluted system, it's likely to frustrate newer employees. A robust and easy-to-use knowledge base is a powerful training tool and allows new agents to begin fielding calls much faster.
Train agents on how to handle angry callers. Phone calls from frustrated customers are common for call centers, and new agents need to know how to handle them. Many of these calls require active listening, repeating information, and avoiding putting the customer on hold. Agents that understand the process can quickly access information to meet the customer's needs while remaining calm.
Automation and self-service tools allow customers to find answers to many of their questions themselves. However, some situations require human interaction. How well a company onboards new call center agents directly effects the customer's experience and loyalty. Contact Actec to learn more about implementing a nearshore contact center.