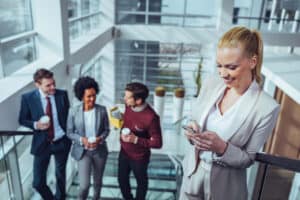 Motivated and engaged call center employees are more likely to deliver high-quality customer service. However, consistently providing superior service and meeting KPIs is challenging and can leave agents exhausted without adequate support. Recognizing their efforts shows customer service agents that the company appreciates their work and cares about their well-being. It also behooves companies to recognize call center agents, as customer service directly effects revenue.
The following are several ideas companies can use to show appreciation for their call center employees:
Personalized incentives. Gift cards are easy to give out as rewards for top performers, but they require little thought and can come across as impersonal. For example, gift cards to restaurants can backfire if the employee has dietary restrictions that limit their options. While a plain Visa gift card is a safe option, it lacks thoughtfulness. Personalize performance incentives to show genuine appreciation, such as a gift basket from the employee's favorite store or drinkware with their initials engraved on it.
Technology accessories and gadgets. Most adults own smart devices, including smartphones, tablets, e-Readers, and more. Businesses can offer a range of high-tech accessories and gadgets for employees to choose from, allowing them to select items that best suit their needs. Companies can divide the options into tiers that employees can unlock by meeting KPIs or let employees choose from the most coveted items on their work anniversaries. Ideas include pop sockets, protective cases and screens for their devices, charging pads or docks, power banks, external hard drives, wireless earbuds, etc.
Peer-to-peer recognition. A peer-to-peer recognition system encourages employees to show appreciation for each other's hard work and fosters better teamwork. For example, all employees can enter a coworker into a monthly raffle for appealing prizes (e.g., a small bonus, taking a half day on a Friday of their choosing, and so on). With more entries, the more an employee stands a chance to win. Employees are more likely to up their teamwork skills, such as taking the extra time to help a new employee or working amicably to find creative solutions on group projects.
Relax the dress code. Consider relaxing the dress code if call center agents don't interact face-to-face with customers. Companies can show employees they care about their well-being and want them to feel as comfortable as possible while at work.
Call center employee appreciation and recognition are essential for ensuring excellent service and delivering a superior customer experience. Contact Actec to learn more about implementing a successful nearshore call center.